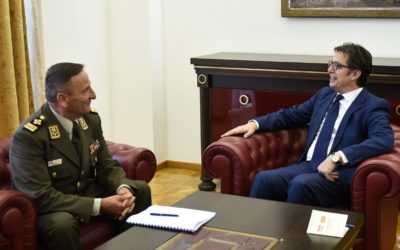 The President of the Republic of North Macedonia, Stevo Pendarovski, received today a high delegation of the Armed Forces of the Republic of Croatia, led by the Chief of the General Staff of the Croatian Army, General Mirko Shundov. The meeting reaffirmed the...
Contact details of the Communication Service
Biljana Radeva – Spokeswoman
Tel: +389 2 3253 126
Mob: +389 76 45 55 45
e-mail: biljana.radeva@presidentoffice.mk
Katerina Canevska Arsovska – Public relations
Tel: +389 2 3253 129
Mob: +389 76 45 55 46
e-mail: katerina.canevska@presidentoffice.mk
No Results Found
The page you requested could not be found. Try refining your search, or use the navigation above to locate the post.