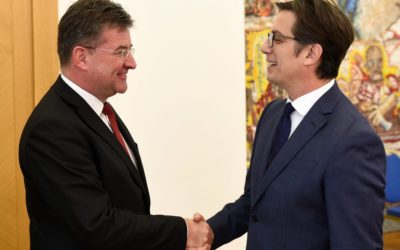 The President of the Republic of North Macedonia, Stevo Pendarovski, received today Miroslav Lajcak, Minister of Foreign and European Affairs of the Slovak Republic and current Chairperson-in-Office of the Organization for Security and Cooperation in Europe (OSCE)....
Contact details of the Communication Service
Biljana Radeva – Spokeswoman
Tel: +389 2 3253 126
Mob: +389 76 45 55 45
e-mail: biljana.radeva@presidentoffice.mk
Katerina Canevska Arsovska – Public relations
Tel: +389 2 3253 129
Mob: +389 76 45 55 46
e-mail: katerina.canevska@presidentoffice.mk
No Results Found
The page you requested could not be found. Try refining your search, or use the navigation above to locate the post.