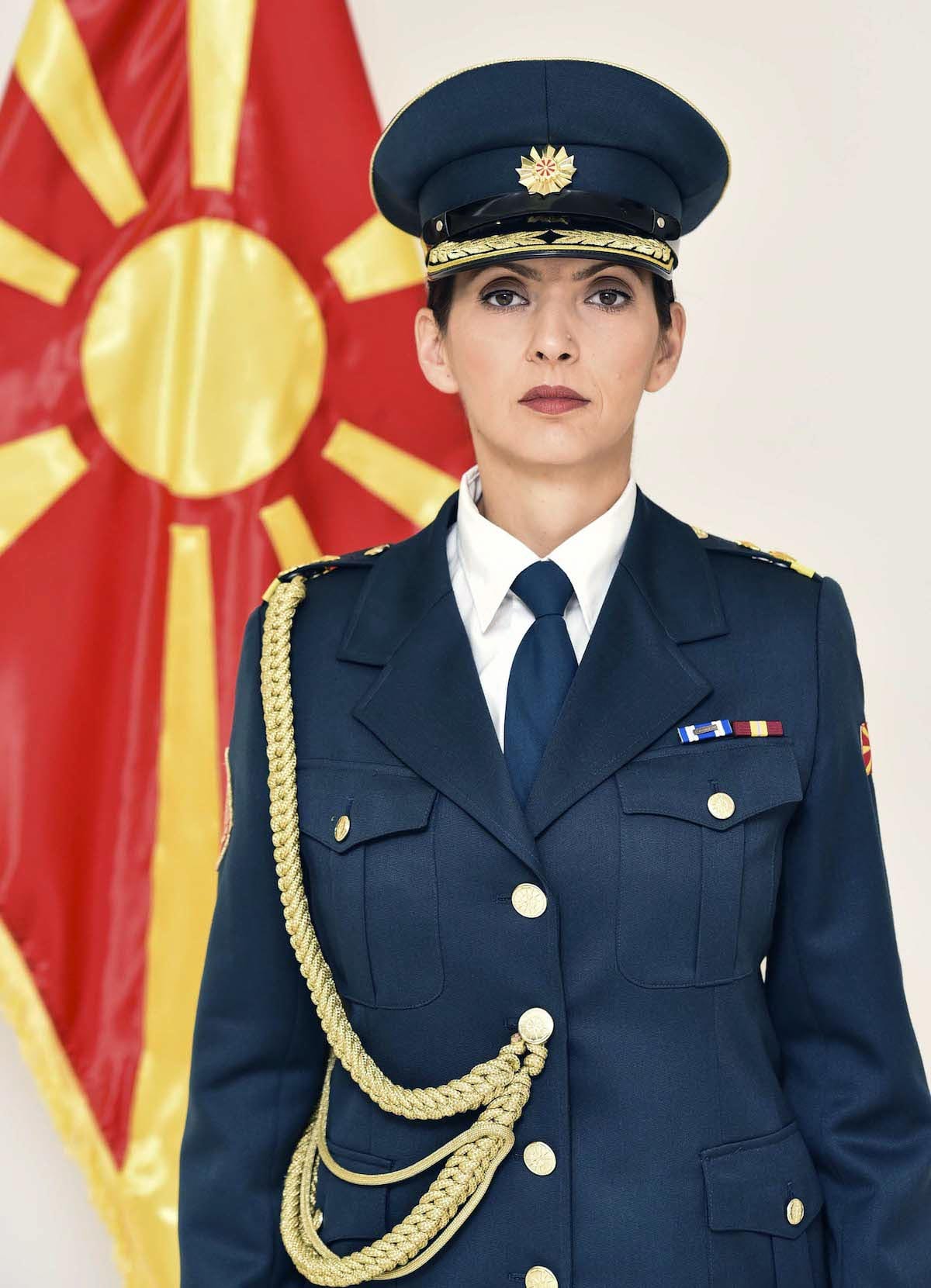 Biljana Blazeska
Adjutant to the President of the Republic of North Macedonia
Biography
Colonel Biljana Blazeska is the Adjutant to the President of the Republic of North Macedonia since August 2019.
She joined the Army in 2001 after completing her professional training and training as an Army Officer in the Army's Ground Forces. During her career, she held several positions, starting as a lieutenant, platoon commander at the Logistics Training Center, Gjorce Petrov barracks, Skopje, and in 2004 was promoted to captain and company commander in the barracks in Veles. In 2006 she continued her career as a staff officer in the field of logistics, in material resource management, in the Command for Logistic Support in the period 2006-2010 and in J-4 of the Army General Staff in the period 2010-2012. From 2012 to 2017 she was the Chief of the Procurement Department in the Logistics Support Brigade, Skopje, and from 2017 to 2019 she was appointed to J-4 in the General Staff of the Army as an officer for managing material resources.
She completed her specialization in command and staff duties at the Military Academy, Skopje in 2013.
From June 2018 to January 2019, she participated in the 'Resolute Support' mission in the Train Advise Assist Command of the Afghan National (TAAC), Afghanistan, as an officer for advising and development of the Afghan National Security Forces and as Chief of J-4 in TAAC.
She has worked on projects to develop and improve the Army's equipment, to improve the management of materials and acquisition in defense, in the procurement process, as well as in promoting the logistical support of the units both in peace and in war, and in sending staff to missions abroad. She has attended different courses and participated in several national and multinational exercises in the country and abroad.
For her commitment to the work, she has received a gold badge of the Army of the Republic of North Macedonia in 2019 and received a medal for participating in the peacekeeping mission 'Resolute Support'.