President Stevo Pendarovski received today Marko Bislimoski, President of the Energy Regulatory Commission.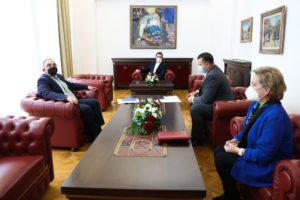 The meeting discussed the stability of the Macedonian power system and the challenges we face, as well as the government decree declaring a state of crisis in the energy sector.
In that regard, Bislimoski informed President Pendarovski about the activities undertaken and the planned measures in the future, the capacities of domestic production, as well as the rights and obligations of license holders to perform energy activities.
President Pendarovski pointed out that it is necessary to take all measures in order to successfully deal with the challenges posed by the global energy crisis, rehabilitation of the energy sector and market needs, as well as cooperation between state institutions and companies in the energy sector, President Pendarovski said at the meeting with Bislimovski.
According to the President, the decision to declare a state of crisis is necessary in order to more effectively implement the measures and address the challenges of the energy crisis.