Under the auspices of the Cabinet of the President of the Republic of North Macedonia and in cooperation with the Council of Foreign Investors within the Economic Chamber of Macedonia, the program "Young Managers and Business Leaders" will be implemented in the coming period.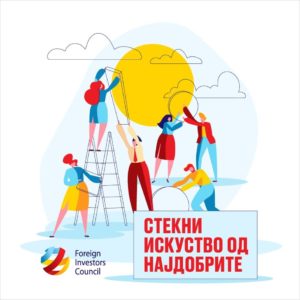 The goal of the program is through transfer of knowledge enabled through the cooperation of the President and the Council of Foreign Investors, the selected candidates to gain training in strategic planning and leadership skills, as well as to be able to visit different sectors within the companies chosen by the selected candidate.
The selected participants will be enabled participation in webinars, preparation of a "case study", as well as opportunities for communication and attendance at meetings with the CEO.
At the same time, the program will help to discover potential talents, enable the companies participating in the Project to better understand what motivates young people and establish a network of future business leaders and managers.
The program "Young Managers and Business Leaders" is planned to be implemented in the period from December this year to February 2021. The trainings will be conducted in several companies, including: EVN Macedonia AD, Comfi Angel, Van Hool Macedonia, Kemet Electronics Macedonia, EOS Matrix Macedonia, Philip Morris TKP and Ramstore Macedonia.
Eligible public call candidates are:
• students who are in the final year of their undergraduate studies;
• graduate students;
• MA and PhD students at universities/faculties in economics, law, human resources, management, public administration, business or field of interest of the companies involved in this program.
The age limit is 29 years.
All interested students can apply at https://forms.gle/FQnoSA9CGTAyZhAx7 or send an e-mail to: [email protected] no later than 20.11.2020.
Contact person in the Cabinet of the President of the Republic of North Macedonia:
Pranvera Imeri,
Tel. 075229099
E-mail: [email protected]
Contact person from the Council of Foreign Investors:
Vlatko Stojanovski
Tel. 02/3244-004
E-mail: [email protected]