President Stevo Pendarovski visited Kratovo today as part of the "Face to Face with the President" project.
President Pendarovski was welcomed by Mladen Micevski, professor of vocational subjects in "Mitko Pendzukliski" Catering and Tourism High School, who together with some of his students presented to the President handicrafts in the spirit of the Macedonian tradition, knitted products, carpentry and pottery products, as well as dishes prepared in the traditional Kratovo way.
Micevski, together with the professor of economic subjects Dragana Andreeva Jakimova, strive to discover the talents of the students and motivate them to translate their skills into creative business ideas. In that way, the students will preserve the values of Kratovo and by promoting the city they will contribute to the development of rural tourism.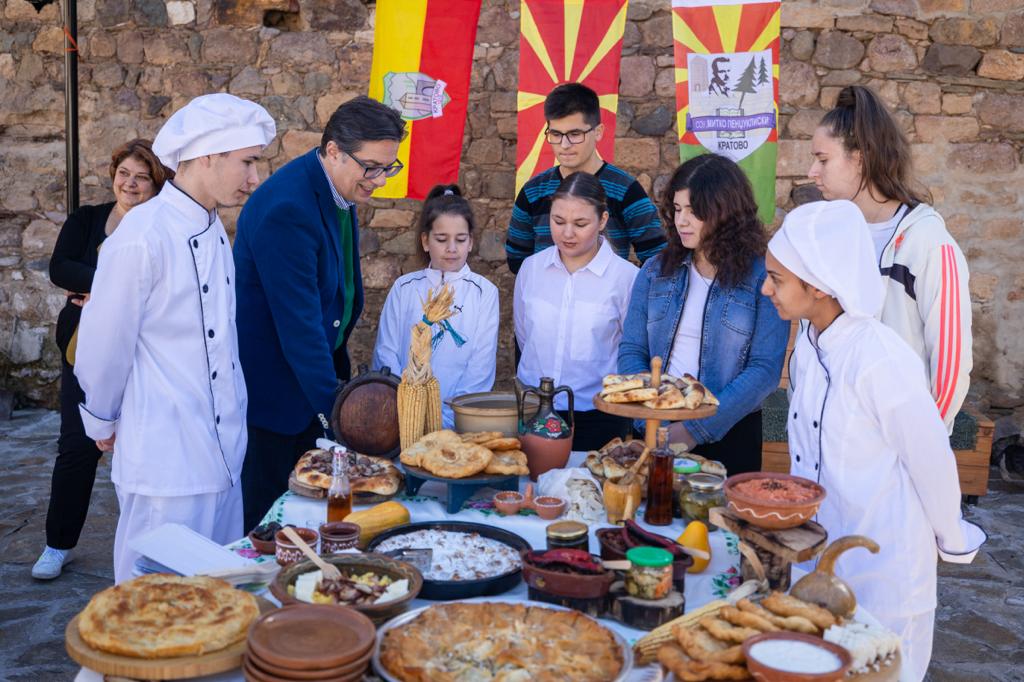 In the talks with President Pendarovski, they stressed the importance of combining professional education and business, as well as the application of traditional crafts following modern trends. The two professors informed the President that they are currently actively and enthusiastically working with about fifty students, and in addition to encouraging entrepreneurship, their activities also have a humane dimension – they donate some of their traditional products to people with disabilities.
Micevski, who, working as a tourist guide, has made a great contribution to the affirmation and promotion of Kratovo, presented to President Pendarovski the rich cultural-historical heritage and natural rarities of the city, the famous Kratovo pines from the 14th century, the medieval Clock Tower, the old bazaar, the mural of the craftsmen, as well as the mural in honor of Vanja Lazarova made on the occasion of the 30th anniversary of our independence.
In Kratovo, President Pendarovski also visited the workshop of the blacksmith Mijalce Nusev, one of the few active craftsmen in Kratovo, who inherited the blacksmith trade from his father, with the desire to maintain the tradition.