Media Center
President of The Republic of North Macedonia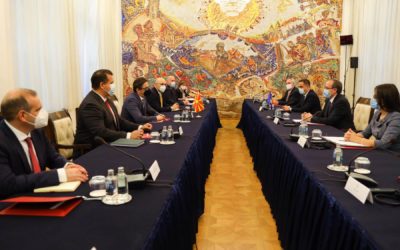 The President of the Republic of North Macedonia, Stevo Pendarovski, received the Prime Minister of the Republic of Kosovo, Avdullah Hoti. At the meeting, opinions and information were exchanged on the current...
Transparency, openness and accessibility are principles on which the institution President of the Republic of North Macedonia functions, as well as the Cabinet, as an expert service to support the work of the President.
The Cabinet regularly informs of all activities, ongoing projects and positions of the President, while the Communications Service is available to journalists at any time.
In addition to providing regular information through conventional and digital media, the President's Office is open to all citizens interested in the work of the President, with the opportunity to visit the Villa 'Vodno' through the program 'Open Cabinet'.
Through the 'Face to Face with the President' program, the citizens of the entire country have the opportunity to talk to the President during his visits to various settlements.
Contacts for media
Biljana Radeva  
tel: +389 2 3253 126
mob: +389 76 45 55 45
e-mail:  [email protected]
Katerina Canevska Arsovska
tel: +389 2 3253 113
mob: +389 76 45 55 46
e-mail: [email protected]
Elena Stavrovska
tel: +389 71 344 432
e-mail: [email protected]